Phone number: 02623.825487
Email: thongtin@ttn.edu.vn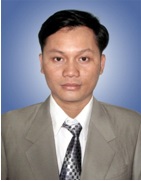 MA. Phạm Văn Thuận
1. Introduction
The Department was established on October 28, 2021 under the Decision 87/NQ-HĐTr on the basis of joining from The Information Center and the admission office of Tay Nguyen University.
2. Total number of staff: 06 members
3. Function and responsibilities: The Center takes responsibility for
- Assisting the Rector in managing, exchanging and publicizing external and internal information contributing to management tasks, training and scientific research;
- Collecting, exchanging, managing and publicizing internal and external information in accordance with the regulations of the university and the law
- Managing and providing access to electronic information, documents and materials concerning professional aspects; 
- Managing and maintaining the Internet connection and the university's local network.
- Managing and updating information for the university's website
- Managing and effectively making use of the multimedia conference room serving teaching and learning activities and providing guidance for students to register for courses.
ONLINE
We have 7923 guests and one member online