Về việc: Thư mời tham dự Hội thảo Thiết kế và Phát triển Hệ thống Đảm bảo Chất lượng bên trong (IQA) của AUN
---
Ngày 27/3/2023 Giám đốc Điều hành của AUN đã có thư mời Trường ĐH Tây Nguyên tham dự Hội thảo Thiết kế và Phát triển Hệ thống Đảm bảo Chất lượng bên trong (IQA) của AUN
"Dear President of Tay Nguyen University,
The Ministry of Education and Training of Viet Nam (MOET) and the ASEAN University Network (AUN) Secretariat in collaboration with Viet Nam National University Ho Chi Minh (VNUHCM) is proud to announce the organization of the "AUN Internal Quality Assurance (IQA) System Design and Development Workshop" set to be held in Ho Chi Minh City from April 24-26, 2023.
The Workshop aims to design and develop an AUN Brand of IQA framework and system that aligns to the cultural and material context of the ASEAN region. The Workshop will be conducted by the AUN Executive Director and Secretariat team with critical input from universities in Viet Nam, and European and AUN-QA technical experts, and resource persons. The organization of the Workshop will branch into two parts: (Part 1) A closed session whereby AUN-QA Members and Associate Member Universities in Viet Nam conduct a root-cause analysis big-picture mapping of the current state of Vietnamese higher education quality and standards, and (Part 2) A design session aimed to identify or re-identify the main components of the desired IQA System together with key implementation tools and mechanisms suited to the conditions and context of Vietnamese and ASEAN higher education. Further details can be found in the event profile attached herewith ..."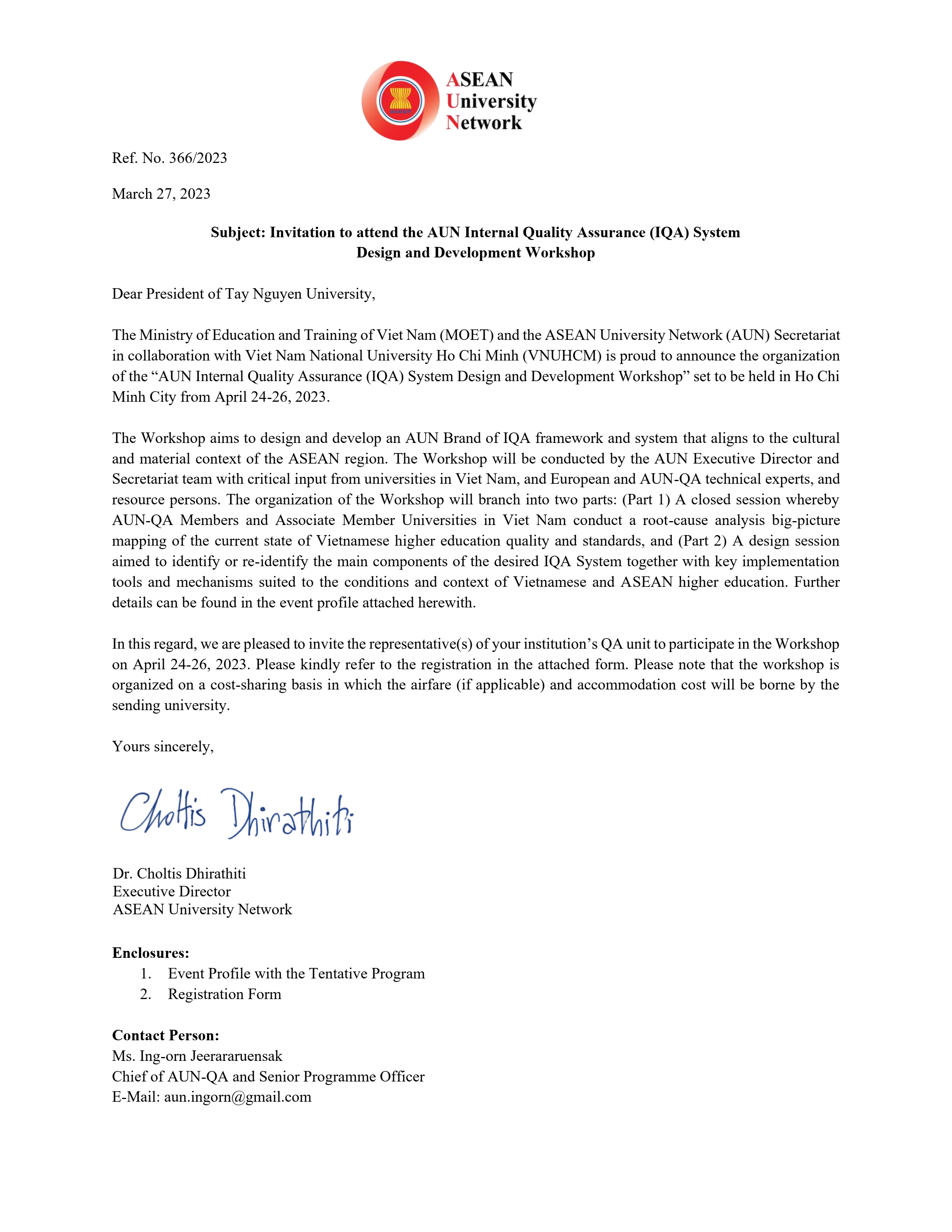 ONLINE
We have 5944 guests and one member online